What is an opt-in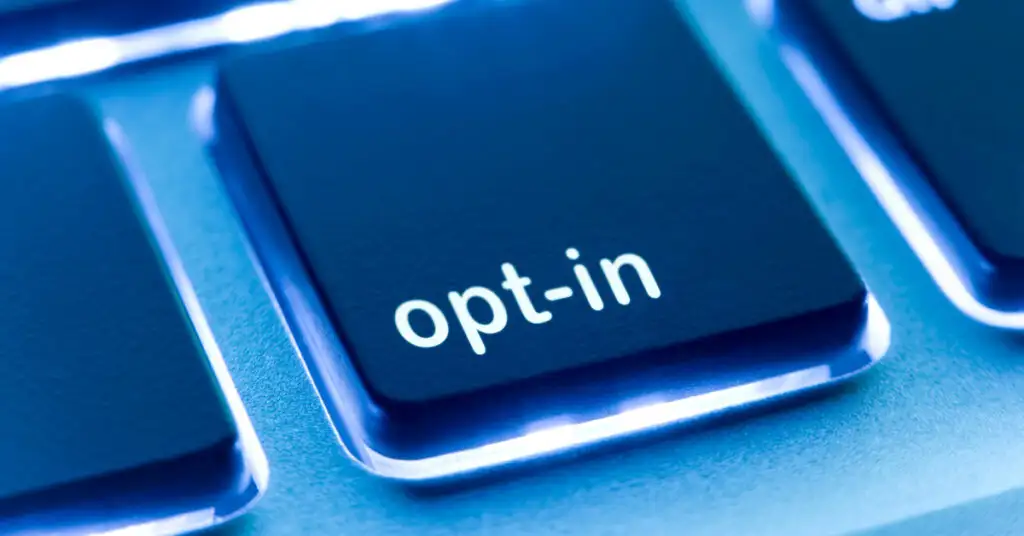 Among all the strategies used in inbound marketing is permission marketing or opt-ins, which are increasingly necessary for capturing potential customers for your campaigns.

Here, you can learn over a hundred tricks and strategies for digital marketing application.

The Opt-in method is a form of consent given by website users to authorize data collection by a company.

There can be various purposes, which should be specified so that people understand what they are agreeing to.

This often refers to permissions for receiving emails (in email marketing strategies, newsletters, etc.), updates, product sales, or specific content that is useful to users.

It's important to know that this process has been established in data handling policies of countries to ensure the use of information on the internet is consented to by the recipients, so it doesn't become annoying or uncomfortable for them.

You should always avoid falling into the trap of sending mass, meaningless emails or cold mails that can affect a prospect's interaction with the brand.

Thus, including opt-in buttons or boxes in various places on your website will help increase your database of potential leads.

Currently, all companies looking to get closer to their audience need an effective email opt-in strategy.

It's the simplest and most reliable way to stay in touch with your potential customers.

Let's look at some of its benefits.
Benefits of an Opt-In
Opt-in buttons are commonly placed on call-to-action (CTA) buttons or email registration forms, such as pop-ups, forms on landing pages, and integrated website widgets.
You can place them anywhere, but ideally, you should offer eye-catching value propositions to encourage people to share their data.
This is why a landing page is an excellent choice for capturing more emails for your commercial database.
Some of the benefits of opt-in include:
1. Higher Quality Email List
Authorized subscriptions to your database yield high-quality email addresses.
Furthermore,
Some companies with websites opt for "double opt-ins" by adding an extra step after the initial opt-in, requiring confirmation of the already entered email address.
This approach might reduce the number of recipients, but it often increases the quality of potential customers, guiding them through the sales conversion funnel.
This helps prevent your email list from being cluttered with inactive or nonexistent addresses.
2. Opportunity for Immediate Interactions
After gathering information from your prospects, you can develop various strategies to engage with your subscribers, discuss your brand, topics related to your products, and start a more effective, targeted lead nurturing campaign.
3. Low Subscription Cancellation Rate
With an opt-in, you're less likely to be blocked or reported as SPAM.
This is even more likely with "double opt-in," as fewer prospects are likely to unsubscribe from your marketing emails compared to a single subscription.
This is because users have expressed their desire to receive emails from you twice.
4. Increased Click-Through and Conversion Rates
When companies execute digital marketing campaigns with a focus on email marketing, they often report better results in email open rates, click-through rates (CTR), and a significantly higher return on investment.
Why You Need an Opt-In on Your Site
1. Builds Trust and Credibility
Having a sign-up option on your website with a disclaimer about your marketing intentions creates transparency for your audience.
By being honest with your customers, you're building trust with them. As we all know, trust is key in any business-client relationship. Read this article for more information on how to build trust and brand loyalty.
2. Increases Lead Generation
Having an email sign-up option can help build your email list with an interested audience. Whether they have made a purchase from your business or not, they will be connected to your company through your email campaigns.
Over time, they will become more aware of your business and what you offer (and eventually make a purchase).
3. Predicts User Interests
As a business owner, it's important to know who your audience is. Of course, audience research helps tremendously with that, but the more research, the better.
With visitors subscribing to your email marketing, you can gain more insight into what interests your audience and what they engage with most. This can assist you with your future marketing campaigns and product development.
4. Better Open Rate
If someone opts in to receive your emails, they are more likely to open and engage with them. Why? Because they took steps to connect with your business.
If someone receives emails they didn't subscribe to, they are less likely to open them as they may perceive them as spam. And what happens with spam? It ends up in the trash.
5. Easy Customer Interaction
Once a visitor has subscribed to receive emails, your business has already connected with them on an emotional level. It's a significant step forward.
From there, it's easy to interact with customers and keep them informed about new products, sales, etc. You can also send them 'personal emails' like a thank you or welcome message.
What is an Opt-Out
Brands using an opt-in approach typically also offer an opt-out process. This allows customers to unsubscribe and have their email addresses removed from the database. To gain some benefit from opt-out options, marketers include a feedback form in the opt-out process. Checkboxes indicating the reasons for a customer's unsubscribing provide insights on how to improve the marketing strategy.
Best Practices for Opt-In
If you're starting with your digital marketing strategy and aiming to grow your database, it's time to apply various techniques to acquire new email addresses.
Here are some recommendations to consider for where and how to place opt-in buttons on your website, which will also help increase audience engagement:
Add the sign-up form on every page of your website or blog. You can also integrate a pop-up based on specific user interactions, and offer valuable content that attracts people to a landing page.
Clearly state what the person will receive by subscribing to your email list, such as the frequency of emails and the type of content, like access to webinars, chapter-by-chapter e-books, newsletters, etc.
Segment your audience based on their behavior, for instance, a first-time visitor to your website will not initially receive the same content as others who have interacted multiple times.
Use double opt-in and other strategies if you want to create a more solid list with genuinely qualified leads.
Vary the content in your email template, for example, send a discount code for a specific service or product one week, and the next week, send an educational email about how subscribers can solve a problem or achieve a goal related to your brand and products.
Always track your metrics and KPIs (you can find a guide on designing KPIs for digital marketing campaigns here). For email marketing and opt-in permission marketing campaigns, consider the open rate, engagement rate, bounce rate, among others.
Add CTA buttons and other calls to action like "share email," "share on social networks," etc.
Include an accessible link for people to unsubscribe from the email list. Many automated email service providers include this by default, but it should not be made prominent, as you ideally want to minimize unsubscribes.
At Dazzet, we can help you create an effective digital marketing strategy that will help you achieve all your short-term goals.
Juan Esteban Yepes