What is SEM. Search Engine Marketing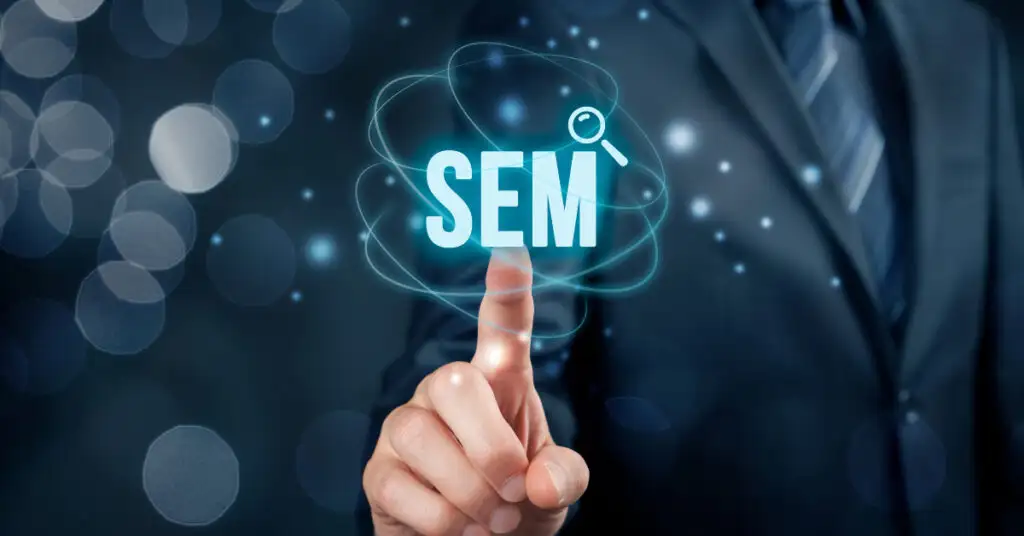 What Does SEM Mean
Search Engine Marketing (SEM) encompasses all activities carried out through search engines using paid advertising. This ranges from the positioning of a company's webpage to its advertising campaigns.
The primary goal of developing search engine marketing strategies is to drive traffic to a website. This is achieved by bidding to appear on users' search results pages or on affiliated pages for paid advertising, through keyword positioning. Discover more digital marketing strategies here.
What is SEM (Search Engine Marketing) in Advertising?
Defining exactly what SEM or search engine marketing is can be tricky, as different definitions exist depending on who you ask.
SEM is defined by the set of tools, techniques, and strategies that help optimize the visibility of websites and web pages through search engines. In summary, the goal of SEM is to achieve a better position in the search results of Google and other similar sites.
Typically, the search results pages of Google and other sites display two types of results:
Organic Results: To determine which results to show, the search engine uses an algorithm that identifies which websites best respond to a specific query. Google's algorithm is based on relevance (web content) and authority (links from other pages). The set of techniques and tools used to position organic listings is known as SEO (Search Engine Optimization).
Paid Results: Unlike organic results, here the advertiser pays for each click. To generate traffic by buying ads on search engines, you'll need to turn to search engine advertising solutions, like Google Ads. This system is also referred to as PPC (Pay-Per-Click) or CPC (Cost-Per-Click).
Search Engine Marketing covers both SEO techniques and search engine advertising. However, most marketing specialists use SEM to refer exclusively to search engine advertising, or paid results. To avoid confusion, in this article, we use SEM specifically to refer to search engine advertising and paid advertising.
Basic Concepts of SEM
SEM is a vast topic with many different approaches to explore. Below, we've linked some articles on more specific topics within the SEM methodology.
SEO and SEM: SEO and SEM are fundamental in online marketing strategies, but they are also two abbreviations that create a lot of confusion. Which is better for your brand, and how can you leverage both to increase traffic and conversions?
SEM Positioning: SEM positioning is the paid method used to quickly achieve a position in search engines.
SEM Campaign: An SEM campaign represents the entire advertising strategy that creates ads on search engines like Google. A campaign can encompass many ad groups and keywords to improve positioning.
SEM on Google: The most popular form of SEM is through Google Ads. To create an SEM campaign on Google, you need to move from the most general to the most specific aspects. There are many different ways to advertise on Google Ads, with a variety of options and ad structures.
Why Use SEM for Your Business
There are numerous reasons to incorporate SEM into your digital marketing strategy. Here are just a few benefits of using Search Engine Marketing for your brand:
Attract Highly Qualified Traffic to Your Page: A cornerstone of any digital marketing strategy is attracting the right users to your landing pages. Search engine marketing is highly effective in drawing user attention and generating clicks by allowing users to filter according to the keywords they search for. This ensures that your traffic is composed of people potentially interested in your brand.
Increase Brand or Business Visibility Globally: Ranking at the top of Google is an excellent way to gain visibility for your brand. Seeing your page first allows users to associate it with the need they are trying to fulfill, even if they don't click on your page.
Generate Conversions: Google Ads offers many ways to measure conversions, ensuring that your ads are effective.
Achieve Results with a Limited Budget: Search engine advertising solutions can be tailored to your budgetary needs at any time. A large initial investment isn't required, making them suitable for small and medium-sized businesses. As your brand grows, the possibilities are limitless!
Leverage Google Ads for Search Engine Marketing: With Google Ads solutions for Search Engine Marketing, you can not only place ads in the search engine but also use the available data and parameters to place contextual advertising on other websites. The customization possibilities are extensive. For example, you can target users who have already visited your website, are interested in a type of product X, are from a specific city, etc. Combined with your search engine advertising campaigns, these can be powerful tools for growing your brand.
Advantages and Disadvantages of SEM (Search Engine Marketing)
Undoubtedly, search engine marketing is a powerful tool for almost all types of brands. To assess when and how to use it, let's explore some of its advantages and disadvantages.
Advantages:
Highly Measurable: Tools like Google Ads provide you with very detailed reports on the progress of your campaign, ensuring you always know what's happening with your ads. Plus, integration with Analytics allows for perfect control over your campaign.
Real-Time Monitoring: The analytical interface lets you see what's happening at each moment, allowing instant course correction if you're not achieving the desired results.
Pay-Per-Click Model: This means you only pay when you see results. You can control the maximum daily budget you're willing to invest, as well as the maximum cost per click you can afford, ensuring the campaign remains profitable.
Speed: Compared to other techniques like SEO or content marketing, search engine advertising enables you to achieve large-scale results relatively quickly.
Accessible to All: Since the budgetary investment is scalable, this solution works for both large corporations and SMEs. All compete on an equal footing to reach the top positions for keywords.
Targeting: Finally, another advantage is its vast targeting possibilities. By focusing on keywords, you reach an audience actively interested in what you offer. You can also filter by other factors like location, language, or behavior.
Disadvantages:
Higher Long-Term Cost: To be clear, SEM only works as long as you pay for it. Although campaigns can be optimized over time to reduce cost-per-click, you still need to pay for each visit you get.
High Level of Competition: Search engine marketing has become popular, and many companies compete for the same keywords. This competition can drive up costs and sometimes make it challenging to achieve a good ROI.
Intrusive Nature: Unlike other solutions like native advertising, SEM involves "invading" the user's space with content they didn't seek. Moreover, if your target audience uses ad blockers, they may not even see your ads.
Juan Esteban Yepes