What is a lead magnet and its key elements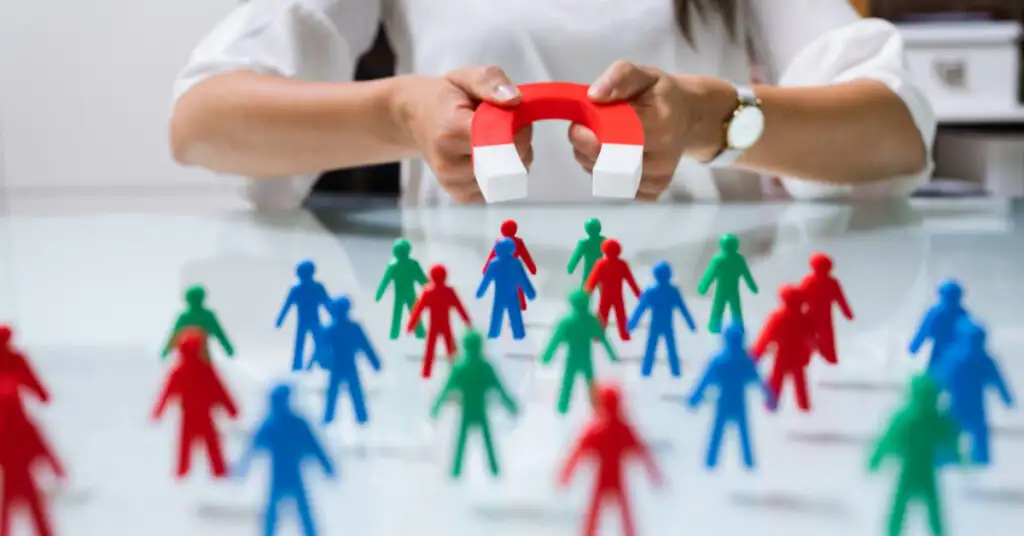 Turning leads or prospects into actual customers is not straightforward. It's an ongoing task that may show slow growth and requires persuasive abilities to increasingly attract individuals.

This process is known as Lead Nurturing and starts with the collection of leads. The more potential customers you gather, the higher your chances of converting them into actual customers.

For this, marketing specialists develop various strategies for the first stage of the conversion funnel, including the creation of lead magnets.

To delve deeper into the funnel, we recommend our guide on designing a digital marketing strategy.
What is a lead magnet
A lead magnet, or a tool to draw in potential customers, is a strategy developed by marketing experts to capture leads by offering incentives or gifts in return for users registering their contact information on a website.
This approach builds an email list to create organic engagement with your users. Combining this strategy with numerous other digital marketing tactics can increase its effectiveness.
The primary objective is to create the company's own database, offering several benefits:
Establishing initial trust with the lead.
Integration into landing pages for positioning keywords or products.
Providing value to users, thereby making it more appealing to guide them through the conversion funnel.
Acquiring more information for segmenting content in email and inbound marketing strategies, and more.
Designing an effective lead magnet
This tool is powerful for boosting customer conversion rates and can be tailored in multiple formats based on your market niche and what appeals to your customer type.
Some formats are more popular for conversion. Studies show that video formats have the highest conversion rate at 24.2%, followed by text content at 22.8%.
Other popular types include visuals (11.8%), tools or access (11.8%), and monetary value such as discount vouchers or purchase coupons (10.5%).
So, what might be best for your company or brand?
In designing a lead magnet, ensure that the content possesses specific desirable features. People are generally reluctant to provide contact details such as names and emails for fear of receiving spam or perceiving the offer as unattractive.
Thus, some key features to focus on when creating an effective lead magnet are:
Key elements of an effective lead magnet
1. Utility
A lead magnet is most useful when it focuses on the client's needs. It should save the potential customer time, solve a problem, or offer a unique perspective.
For instance, if you're selling accounting software to startups, and entrepreneurs are your target audience, you might develop an ebook as a lead magnet. This ebook could share your founder's first-year business lessons, offering valuable insights to those considering starting their own business or in the midst of building one.
2. Credibility
Lead magnets need to establish or reinforce your credibility. The resource should provide trustworthy insights supported by experience, research, or interviews.
Consider, for example, you work for an established e-commerce platform. You could create an informative resource with entry barriers, featuring tips from prominent companies using your platform. Potential customers who admire these well-known brands would be eager to download the content and learn from industry leaders.
3. Shareability
If your lead magnet is both useful and credible, your audience will want to share it. Make it easy for people to spread the word:
Link your lead magnet from a social media ad that followers can share.
Include social sharing buttons on the landing page.
Tag experts you interviewed in social media posts about the lead magnet.
Encourage employees to share it within their networks.
For example, content creator Visme uses social sharing to promote its lead magnet—a free course. Prospective clients can share the course on their LinkedIn, Facebook, Twitter, and Pinterest profiles directly from the landing page.
4. Strategic Approach
While it's gratifying to see your lead database grow, you need a strategy to turn these new leads into paying customers.
Once you have a lead's name and email, what's next? Do you continue nurturing them with a tailored email campaign? Do you treat leads who open your emails differently from those who don't? Implement a lead scoring system to categorize lead behaviors and give the sales team better insight into whom to pursue.
For instance, if a consumer downloads your lead magnet, opens your follow-up email, starts an order but then abandons the shopping cart, this level of engagement indicates that the lead is now a genuine prospect. Such a lead deserves more attention from sales representatives than one who disengages after downloading the lead magnet.
Effective lead magnet formats
As we've seen, videos and text content are the most appealing to people. Let's explore some options you can use to create a successful lead magnet.
E-Books
E-books are popular because they're easy to download, save, and read, especially in PDF format. They don't have to be extensive; even a simple PDF version of a blog post, a practical guide, or a market report can be effective.
You decide the topic! You can also create a comprehensive e-book related to a specific blog post but offering more detailed practical advice. This can serve as a hook for the reader to later access content updates via email or by visiting your blog.
Access to webinars
Webinars are an excellent option for those wanting to learn more about your service or product. They not only help establish a better market reputation but also invite leads to register their email by offering a first chapter of the webinar. For a small cost, they can sign up to receive additional chapters.
This approach increases traffic to your website and trust with leads, demonstrating your expertise and ability to provide practical solutions to the needs people have when seeking your service or product.
Free trial period
Who doesn't like free things? If you run a SaaS business, this option is very viable for attracting more leads to your conversion funnel.
Even large companies like Netflix offer a free trial month to test their service. In the end, people are likely to continue if it meets their needs.
Ensure good follow-up with those who sign up for the free trial. Clarify that service renewal will be automatic at the end of the trial, or otherwise, create a mailing list to inform users about how to access the full service.
These emails can also follow up with those who choose not to purchase and encourage them to move to the next stage of the funnel with more content via email or even a phone call to find out what might motivate them to extend their subscription.
Discount coupons
If you're looking to boost sales in your e-commerce or online store, discount coupons can be powerful magnets for attracting potential customers.
Offering discounts creates a sense of exclusivity and gives leads more incentives to make purchase decisions. You can also create a sense of scarcity by making the offer time-limited or using a countdown timer to show the duration of the promotion.
For more ideas, visit the lead magnet bible.
How to create a lead magnet that converts
1. Understanding your audience
The purpose of a lead magnet is to offer something desirable to your audience in exchange for their contact information. To do this effectively, you need to know the customer persona you're targeting and what offer would appeal to them. You might have one to three personas with varying needs and challenges, suggesting that a single lead magnet might not appeal to all.
2. Develop and name your lead magnet
Once you've identified what your offer will be, it's time to produce it. Create and design your lead magnet. If you don't have a designer on your team, tools like Canva offer hundreds of templates for creating everything from ebooks and presentation slides to worksheets and reports. Alternatively, consider hiring a freelance designer with the skills to produce a high-quality offer. After designing, name your lead magnet with a catchy title that attracts your audience and highlights its benefits, like "The Ultimate Guide Every Influencer Needs" or "101 Ways to Monetize Your Brand."
3. Building your funnel
The next step involves constructing your conversion funnel, including your landing page, thank-you page, form, and email sequence.
Start with your landing page, applying best practices to boost conversions:
Use a dedicated landing page without a navigation bar to keep the focus on your offer.
Have a clear, concise call-to-action that resonates with your audience.
Consider visual scanning patterns like the F and Z shapes common in Western cultures, placing key elements in these areas.
Include social proof like reviews and testimonials to add credibility and possibly increase conversion rates.
For your form, essential information includes the name and email address. Additional fields are optional, but remember, more fields might increase the chance of users abandoning the form.
Then, your email sequence: once you've acquired a lead, add them to a nurturing sequence that further guides them down the funnel. This can include additional resources like webinars and newsletters.
Finally, set up tracking for your conversion path to monitor user behavior and identify optimization opportunities.
In conclusion, lead magnets are a pivotal tool in the arsenal of digital marketing. By offering value in exchange for contact information, they not only attract potential customers but also initiate a relationship based on trust and mutual benefit. The key to a successful lead magnet lies in its relevance and appeal to the target audience, coupled with a clear understanding of their needs and preferences. Whether it's through informative ebooks, engaging webinars, or enticing discount coupons, a well-crafted lead magnet can significantly enhance the conversion funnel. However, its effectiveness is not just in its creation but also in its integration with a well-planned marketing strategy, including a compelling landing page, an optimized form, and a strategic follow-up email sequence. As the digital landscape continues to evolve, the role of lead magnets remains crucial in building a strong, loyal customer base and driving business growth.
Juan Esteban Yepes