What is KPI. Key Performance Indicator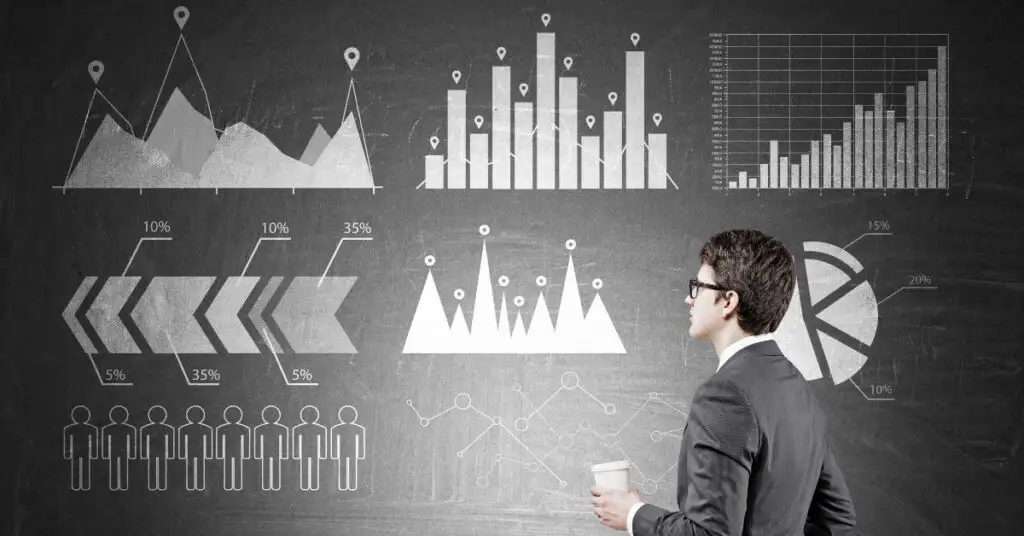 The digital marketing teams of companies use a series of indicators or metrics that allow them to assess the performance of the strategies they design for brands.

By defining clear KPIs, it becomes much easier to track objectives and goals based on the values established.

This translates into a much easier way to understand the effectiveness of the tools you are designing to promote your products or services in the online world.

This way, you can make informed decisions about what is beneficial for your company and what is not yielding the expected results.
¿What are KPIs?
A KPI (Key Performance Indicator) is a metric that demonstrates how effectively a company achieves key business objectives.
It can be used at different levels to analyze the fulfillment of objectives and their success rate at each stage of a conversion funnel.
These can be high-level KPIs, focusing on the overall performance of the company, such as profits.
While low-level KPIs focus on specific processes that take place within different areas or departments of the company, such as human resources, digital marketing, sales, support, among others.
To formulate KPI strategies within an organization, it is necessary to have a clear understanding of business objectives, the action plan to achieve them, and who is involved in the various processes established to obtain results.
Let's see how to determine which KPIs are useful for your business…
¿How to Choose Your KPIs?
While it's common to come across trending KPIs for performance data analysis, not all of them are adaptable to a company due to its processes, size, and/or internal analysis capabilities.
So, you should pay attention to which KPIs you want to achieve and what your company needs; otherwise, some may not positively impact the organization's performance.
Tracking all existing metrics at once is a waste of time.
Here are the main criteria to consider when selecting key performance indicators or KPIs:
Specify your goals.
Allocate a budget for the design, execution, and measurement of the digital marketing strategy.
Select the appropriate tracking tools, check if they are free or paid, and what they offer.
Here, we will look at the most commonly used KPIs for tracking the results of digital marketing strategies.
Digital Marketing KPIs
When your company establishes KPIs for digital marketing strategies, you can make informed decisions based on the performance results of the tools you have used for your brand.
Typically, it is essential to evaluate performance in lead generation and customer retention, paid advertising (such as PPC), website performance, among many others.
So, marketing KPIs can be classified into 5 main categories:
Lead Generation and Customer KPIs.
Traffic and Website Metrics.
SEO Optimization.
Advertising.
Social Media Tracking.
Although KPIs can be categorized as listed above, it's important to note that they are not mutually exclusive.
This is because there are KPIs that can overlap across multiple categories or rely on each other to derive new success calculations for your digital marketing strategy.
Let's look at some KPIs by category and how you can use them for your marketing plans.
1. Lead Generation and Customer KPIs.
To assess whether your lead generation techniques are yielding results, monitor the profitability of your lead generation channels, customer acquisition, and retention.
You can also establish various metrics related to existing customers, such as their behavior, acquisition costs, retention costs, or even your customer churn rate.
Some of these aspects can be tracked using a CRM system, which will help you gather essential customer relationship data.
So, in this category, we can find the following KPIs:
Customer Acquisition Cost (CAC)
This metric tells you how much it costs to acquire new customers for your brand or product, based on marketing and sales costs over a specified period.
This is one of the most important metrics in marketing because it helps determine the investment and costs associated with acquiring a new customer, which you'll need for other KPIs in this category.
This metric indicates the rate at which customers stop purchasing or do not renew subscriptions for recurring services.
This widely used metric in marketing indicates the number of new potential customers acquired in the last month.
A new lead can be someone who signs up for a free trial, a newsletter, or creates an account on your website, etc.
Closely related to the previous KPI.
It is a metric that allows you to classify the new leads acquired to understand which stage of the conversion funnel they are in and how effective your marketing strategies will be in achieving a higher conversion rate.
This KPI allows you to determine the value a customer provides over the company's lifetime.
When compared to CAC, it can provide information about the cost of recovering the investment made to acquire that customer when they make a purchase. It also provides important data about the total revenue you can generate from a single customer.
Conversion Rate of Organic Searches
This KPI shows if your keywords, which rank prominently in search engines like Google or Bing, are genuinely linked to a value proposition that drives conversion.
A low organic conversion rate indicates that you may have high-ranking keywords that are unclear or confuse the audience with incorrect messages about your service or product offering.
To measure it, you can use your CRM software. If you don't have one yet, at Dazzet, we can assist you with custom development.
With CRM, you can develop customer categories that pay by dates, sources of potential customers, lead magnet conversions, and many other options.
2. Traffic and Website Metrics KPIs
Traffic and website metrics are diverse and varied, defined based on specific elements you want to obtain from your website and the type of page your company owns.
These indicators can range from analyzing user or visitor behavior on the page, for example, with heatmaps or click maps, to the amount of traffic you receive, where it comes from, how long visitors stay on the page, site load time, and most importantly, the conversion rate, among others.
Let's look at some of the KPIs in this category:
The Web Traffic Sources metric measures where users come from to your website, allowing you to make comparisons to determine which source attracts more visitors.
The main sources of website traffic are:
Direct: Users type the URL into their browser.
Referral: Users who click on the URL of your site found on another page.
Organic Search (SEO): When people search for keywords on search engines like Google, Bing, or Yahoo and find your website.
Campaign: When you have an active paid advertising campaign with banners on Google partner sites or on social media, etc.
Social Media: The number of people who arrive via links posted on Facebook, Instagram, Twitter, LinkedIn, etc.
You can also add another KPI to this metric, such as conversion rate by traffic source, which is calculated using the same sources mentioned above and the user's final behavior, such as whether they provided an email, shared your site on social media, or even made a purchase.
You can obtain these metrics from platforms like Google Analytics, among others available online.
The bounce rate indicates the number of people who entered your website but did not interact with it in any way.
Find out here why measuring this rate is important and discover 6 effective formulas to reduce it.
This rate measures the number of clicks received through organic growth or paid advertising, such as Google Ads PPC. You can obtain this metric from Google Analytics and Facebook Ads, among others.
Learn the formula for calculating it and its usefulness in digital marketing strategies by clicking here.
As the name suggests, the exit rate tells you how many people leave a website after interacting with the page.
For example, if a visitor arrived through a lead magnet but stayed to read more information on another tab of your site and then decided to leave, it differs from the bounce rate because, in this case, visitors do interact with the page."
3. SEO Optimization KPIs
SEO is a term we hear so often that it can be confusing or we may not yet understand how it's measured.
SEO growth is the organic (non-paid) improvement in search engine rankings that helps your site achieve a higher position in search engine results pages, eventually reaching the top spots.
Let's explore some important KPIs in this category that are useful for optimizing the SEO strategies you are currently applying to your website.
This involves measuring and analyzing the ranking of your keywords to drive organic search traffic to your website.
It's extremely useful for pinpointing the positive and negative impact of your SEO efforts but is limited in explaining why. Therefore, it's essential to combine this KPI with others related to site behavior, visitor behavior, etc.
Typically, it's highly effective to start with keyword research, how competitors use them, where they are used the most, etc., before attempting to rank them.
You can obtain this metric from Google Search Console and combine it with other data from Google Analytics.
Indicators related to links are crucial for analyzing SEO positioning.
Designing strategies related to link placement on other websites is one of the most essential factors that improve a site's reputation in search engines.
For example, the use of backlinks or link building strategies, which you can learn more about in this link, where you can discover the necessary steps to obtain trusted links.
You can use tools like Majestic, Ahrefs, and Serpstat for this purpose.
This KPI is closely tied to the previous one because the number of backlinks you manage to have on other websites, among other factors, gradually improves your website's reputation in search engines.
This KPI indicates the level of "trust" and reputation of the page's domain and how it may have mentions on other reputable sites.
ROI (Return on Investment)
This is by far one of the most important KPIs overall for any digital marketing strategy.
ROI, which stands for Return on Investment, determines whether the net income justifies the money spent on optimizing your website.
Here is the formula for calculating your ROI percentage:
(Gain from Investment – Cost of Investment) / Cost of Investment
You can learn more about ROI and its measurement methods in this link.
Google calculates this metric for your website using various algorithms to determine your page's importance.
It is based on the quality and quantity of incoming links or backlinks found on an external page, making it highly relevant among link-building KPIs.
To increase this metric, you can employ various additional digital marketing strategies such as guest blogging and creating high-quality content that encourages people to share or link to it."
4. Advertising KPIs
The KPIs in this category serve to assess the effectiveness or success of advertising campaigns or other SEM strategies included in your marketing plan.
Each KPI is chosen based on the objectives of each campaign, so it's necessary to establish them beforehand to configure them in platforms like Google Ads, Google Analytics, Facebook Ads, YouTube Ads, etc.
Proper measurement is the only way to determine the ROI of advertising or PPC ads.
In addition to some KPIs mentioned earlier, such as ROI, Click-Through Rate (CTR) for Pay Per Click (PPC) Ads, and Customer Acquisition Cost (CAC), let's explore other metrics you can obtain in this section.
Known in English as CPM (Cost per Mille), it indicates the average number of people who viewed the ad for every 1000 impressions.
Impressions are the number of times an ad was viewed without necessarily explaining the number of clicks it received.
While it's an important metric, it adds context to other KPIs such as Cost Per Click. For example, if you discover you have a 50% impression share for a keyword, it means your competition likely has the other 50%.
When running advertising campaigns on Google, this search engine sets the average impressions the ad can have based on various factors like quality, approval status, targeting conditions, etc.
Quality Score is a metric designed by Google to determine how relevant your ad is to its search engine results pages (SERPs), using metrics like CTR and other variables such as website performance.
This metric can be complex to understand for many digital marketing teams when your company decides to invest in paid advertising on search engines.
At Dazzet, we can assist you in configuring all KPIs based on your business needs in designing your online advertising.
This indicator displays the average position for both paid ads and organic growth on search engine results pages (SERPs) of search engines like Google or Bing.
The average position tells advertisers in which position their ad is displayed most of the time.
Ad rank is calculated by multiplying the Quality Score by an advertiser's maximum cost per thousand impressions (CPM).
5. Social Media KPIs
We've reached the last category on our recommended KPI list.
Social media strategies should also be measured and quantifiable based on your objectives.
Typically, a social media strategy focuses on two essential aspects: creating engagement within the community and generating conversions, meaning turning your audience into customers.
Here, you can integrate KPIs such as the specific conversion rate for social media, click-through rate in advertising, for example, on Facebook Ads, among others.
Let's delve into it:
This social media metric shows the number of people who have actively engaged with your posts (shares, likes, clicks, etc.).
You can measure it as a percentage of your total number of followers on different social media platforms. You can use tools like Facebook Business Manager, HubSpot, and BuzzSumo for this.
Social Media Leads and Conversions
While many consider social media as a brand awareness channel or for branding purposes, it can also be used to generate leads and conversions.
So, you can monitor the number of leads and monthly conversions from social media to assess the effectiveness of your marketing campaigns on these channels.
You can measure this by using your CRM tool to track all prospects and customers with the conversion source "social media."
Audience Size and Engagement
Tracking your audience on social media month by month is an opportunity to gauge whether your audience is engaged, becoming increasingly interested in your content, and involving more people over time.
You can analyze this with monthly metrics obtained from platforms like Facebook, Instagram, etc., to understand your audience's participation and interactions and the acquisition of new followers.
Conclusion
As you can see, KPIs can be any indicators you choose to measure in your digital marketing strategy.
Furthermore, many of these KPIs can provide you with deeper insights into the effectiveness of your advertising campaigns, SEO efforts, and social media endeavors.
Since they are not mutually exclusive, it's crucial to configure the KPIs you intend to measure in Google Analytics before creating your advertising campaigns.
It's worth noting that KPIs are a form of communication that adheres to the rules of any other form of internal communication within the organization.
This implies that it enhances practices by presenting concrete, clear, and relevant data and information, strengthening information retention and prompting action.
Relying on KPI results in each campaign will help make the next one more successful, making informed decisions to enhance the effectiveness of your digital marketing strategy.
Juan Esteban Yepes