What is Inbound Marketing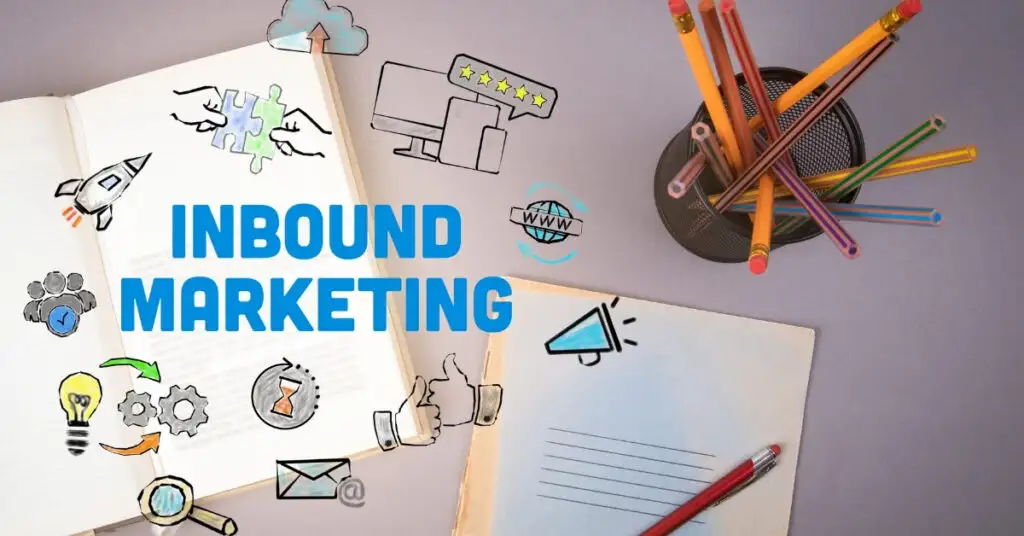 The term "Inbound Marketing" is relatively new.

Throughout history, marketing has been associated with what is now known as Outbound Marketing.

Outbound Marketing, also called Interruption Marketing, involves pursuing customers and offering them products or services without knowing their actual interest in them. This often leads to forced conversions or sales, resulting in generally dissatisfied customers.

In search of a genuine relationship with the customer, Inbound Marketing emerged.
What is Inbound Marketing
This new concept, Inbound Marketing, appeared in 2005 when the co-founder and CEO of HubSpot mentioned it. It started gaining traction here and there, but it was in 2012 that the term truly exploded in use.
The literal translation is "Attraction Marketing," and it involves creating a direct and trustworthy relationship with customers whose interests are already known. This approach is non-invasive, offering customers something they are interested in and building a long-term relationship.
Within this concept, customers, prospects, and consumers are provided with resources to help them achieve their goals. This is done through blogs, videos, podcasts, etc., creating a more organic approach with people by offering reliable information and fostering a sense of security, encouraging consumers to stay with those who implement this methodology.
Benefits of Inbound Marketing
Inbound Marketing has become a powerful digital marketing strategy, with several benefits:
Building a community around the brand: Creating persuasive, attractive, high-quality content that positively impacts the potential for future purchases.
Generating resources to share on social media and website links to increase traffic.
Boosting growth in search engine results (SEO).
Encouraging continuous customer interactions with the brand or product.
Creating segmented target audience groups and personalizing advertising campaigns.
Optimizing operational expenses.
Stages and Tools of Inbound Marketing
Inbound Marketing encompasses a set of tools that optimize processes, facilitating the growth of an organization through various stages. It's particularly effective in B2B (Business-to-Business) strategies.
Let's explore the stages of this commercial methodology and the different tools that can be applied in each phase.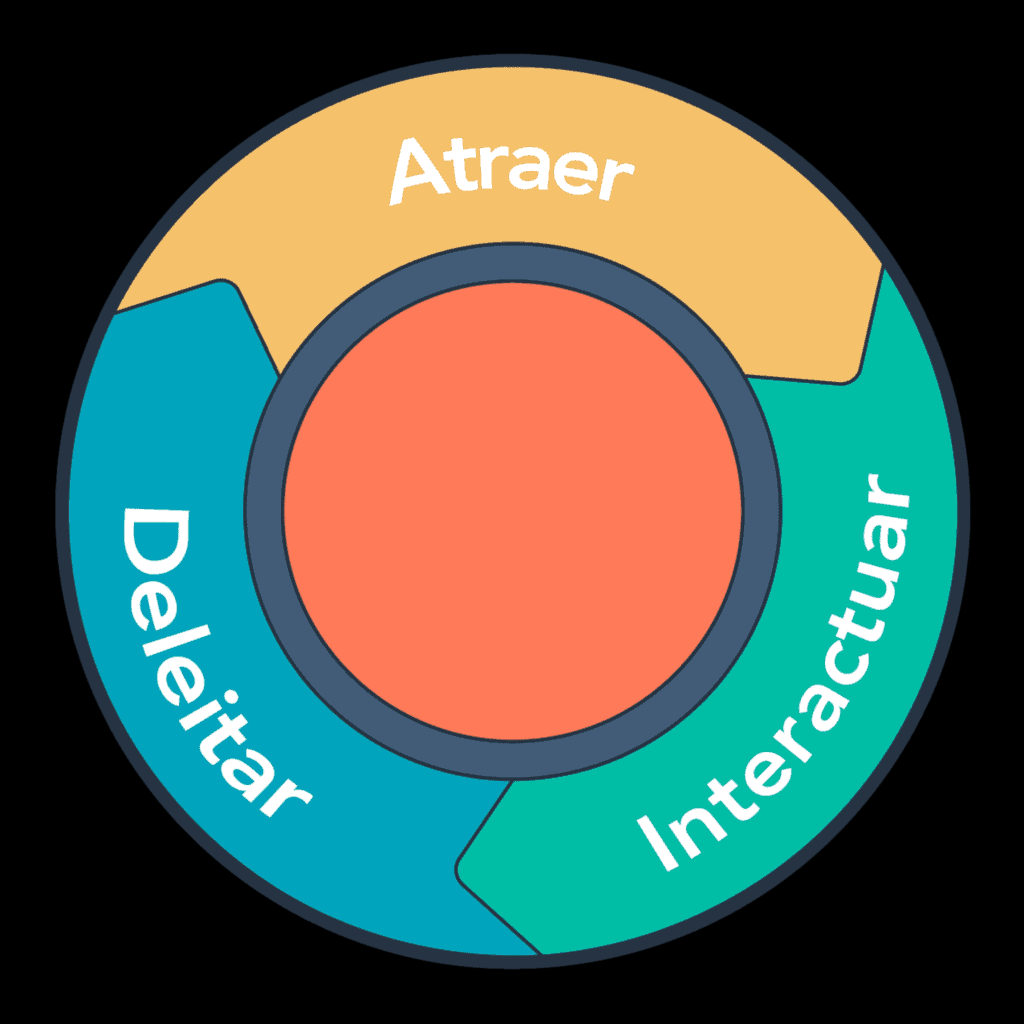 1. Attract
The goal of the attraction phase in any marketing or sales process is to bring potential customers to the business. In the offline world, attracting customers is why businesses place their stores in shopping malls or busy areas. The idea is to have many people pass by the storefront, increasing the chances of them entering.
In the digital world, the attraction phase involves finding ways to bring potential customers to your website, social media, or app.
The primary objective is to attract people who were previously unaware of your brand to your website or business, using content that draws people closer to the company and makes them feel comfortable because they are dealing with a topic expert.
In this phase, it's important to construct a buyer persona or customer archetype, which will facilitate audience segmentation and strategy optimization.
Here, tools such as the following are used:
Content Marketing: Designing interesting and exclusive content so that your customer has reasons to visit your page. This can include studies, success stories, downloadable content, videos, and more.
SEO Strategies: Search Engine Optimization is a continuous effort, like all marketing tasks. Its main objective is to devise strategies that improve rankings for keywords related to the products and services offered.
Blogging: Use a blog to attract users to read updates and important news. An updated blog increases the chances of becoming a market reference, and users will want to visit daily for new updates. Search engines also prioritize constantly updated blogs.
Social Media Marketing: While it's increasingly difficult to generate traffic from social networks, it's also true that these platforms continually explore new functionalities that can increase reach and user engagement.
CPC: Google AdWords campaigns, when segmented by keywords, can be considered non-invasive advertising.
In all these, it's necessary to create content that is relevant, important, useful, and attractive.
So, in these strategies, you can include techniques like infographics, tutorials, practical guides, verbatim, and information about promotions or discount coupons.
2. Interact
By creating and publishing useful and specific content, you can attract the right kind of visitors to your website.
Here, traffic converts into leads when targeted actions are taken to establish contact with people, thereby increasing the chances of interaction with visitors and guiding them with less friction towards making a purchase.
In this stage, you can implement:
Placement of CTA buttons or banners: You should place the buttons that the user believes you should have. This includes chats, forms, price lists, call buttons, and more.
Creation of Landing Pages: Generate landing pages focused on the keywords you want to rank for and provide in-depth explanations of your product or service. Ensure that potential customers have no doubts about what you are offering and can access this information even at 3 a.m. without any assistance.
Lead Magnet Generation: Lead magnets allow you to generate lists of highly qualified potential customers, allowing your sales department to focus on closing deals.
Implementation of a customer service protocol via phone or other communication channels:
Despite living in a digital age, customers will always prefer to interact with people, even if it's through platforms like WhatsApp. Establish protocols for communicating with your prospects.
Activation through customizable chatbots: Utilize chatbots when necessary and feasible. Avoid overusing them throughout the sales process. Remember that you're not selling to robots, and there will always be specific cases with certain customers.
Website optimization based on buyer persona profiles: If you're unsure about your customer archetype, your inbound marketing campaigns can attract the wrong audience, resulting in significant time losses for the sales department.
Make sure to offer valuable content, as attraction, how you welcome your prospects, and how you make them feel about your brand matter most at this stage. This is where the customer relationship is strengthened because it's where the dialogue begins, and it can be considered the starting point of interactivity as a relationship.
3. Delight
In Inbound Marketing, the goal is to nurture both leads and existing customers.
You should never take for granted that they will stay or return to purchase your product or service, even if they have already done so and have interacted with what you offer. It's essential to keep refreshing your content and offering increasingly interesting and captivating things to those who engage with you, with the aim of delighting them.
In this stage, you can implement multiple strategies such as:
Lead nurturing: When you have well-informed customers or operate in industrial markets, it's necessary to provide value to customers before asking for a transaction in return. You need to nurture that relationship. You can give away case studies, market studies, tutorials, detailed follow-ups, etc.
Lead scoring: Qualifying your customers and segmenting them based on lifetime value can help generate new marketing campaign ideas or product and service launches tailored specifically to them.
Remarketing techniques: You can display ads again to those who already know you or have taken valuable actions with your brand.
Email marketing: Send coupons to your best customers or communicate with them differently than you do with those who are unfamiliar with your brand.
Social Media: Deliver valuable content through your social media channels. Create private support groups or provide access to exclusive content for those you select as your best friends or contacts.
Marketing automation: Identify the actions users take on your website or in your applications and interact with them differently than you do with those who haven't subscribed. You can display "hidden" content that is not visible to those who are not in your database.
Finally, whenever you engage in inbound marketing, you should establish a lead analysis process and a conversion funnel or Freewheel that functions across each of the stages of Inbound Marketing.
This way, the company can assess goal achievement levels, gaining a better understanding of the target audience to determine which techniques and content bring leads closer to making a purchase and potentially becoming loyal to the brand.
Juan Esteban Yepes