What is guest blogging and how to do it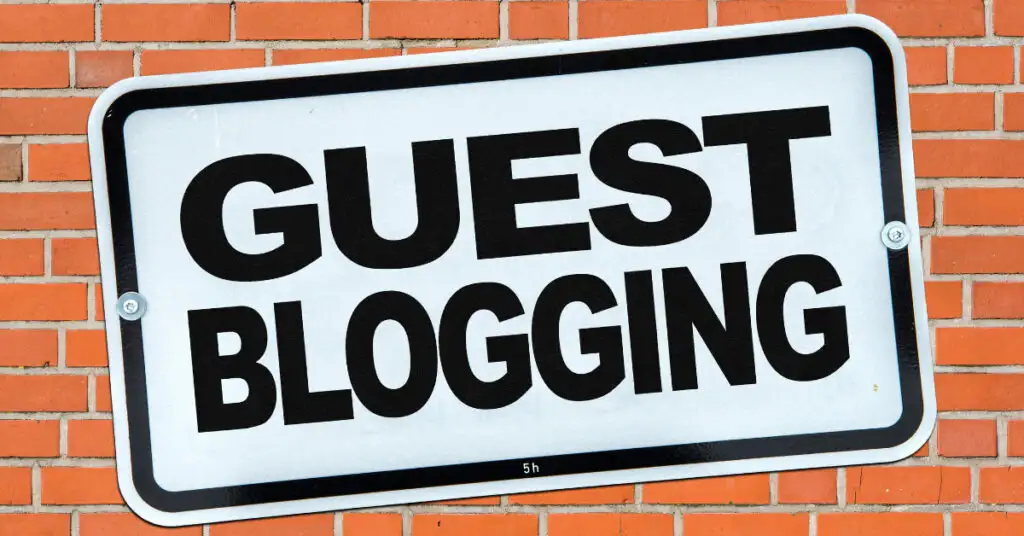 ¿Do You Have a Website with a Blog?

Guest blogging is one of many digital marketing strategies aimed at supporting SEO efforts by generating content for other blogs, which include links to your own site.

Here's the issue.

We've all heard that to rank a website at the top of Google search results, it's necessary to produce high-quality blog content around specific keywords.

Not only does the content need to be high-quality, but you should also consider basic onsite SEO elements like the quantity and density of keywords, titles, tags, and images.

However, without a doubt, the factor that most aids in a site's ranking is incoming links, that is, links that point to your page.

In principle, a link acts as a kind of vote. The more links you have pointing to your page, the more 'votes' you have for your page to be ranked first.

But not all links are valued equally. In this blog entry from MOZ, you can understand the valuation of links.

It's not just the number of links that matters, but the quality of these links. For example, a link from a bank's page, a university, or a government entity is much more valuable than links from a thousand pages with almost insignificant traffic.

So, how do you get other pages to link to your content? How are these links to your page generated?

There are many ways to generate links to your own site, but in the following paragraphs, we will focus on guest blogging and how to do it.
¿What is Guest Blogging?
The term 'guest blogging' basically means blogging as a guest.
With guest blogging, we'll look for strategies to participate in other blogs or encourage others to contribute to our own blog.
That is, we'll write for other blogs and/or seek others to write on our blog.
This strategy works very well because it is mutually beneficial for two reasons.
The owner of the page will have new content to publish and enrich their blog without additional effort. This content will allow them to appear for new search terms, generate more clicks, and improve their positions on Google.
On the other hand, the guest writer will be introduced to a new audience unfamiliar with them and will also have the opportunity to embed valuable links to their own page or content they want to rank.
Why is Guest Blogging Important for Your Business
Guest posting offers a range of benefits for any business. By sharing your expertise on other companies' websites, you can establish yourself as an authority figure within your market, build relationships with other opinion leaders in your field, and expose your brand to an entirely new audience.
Additionally, featuring guest posts on your own blog can provide fresh perspectives and new content to your audience. We're all guilty of falling into a routine and getting tired of the same old thing, so presenting guest posts is an excellent way to keep readers engaged, not to mention the promotional boost that occurs when your guest bloggers share their blogs with their personal networks.
Some blogs, like OpenView, source most of their content from other industry leaders. Even if you don't have the resources to maintain a constant flow of posts on your blog, guest bloggers can help provide new content to your readers without requiring much additional time and effort from your team.
How Guest Blogging Affects SEO
The short answer is: as long as you're careful and thoughtful in creating high-value guest posts for legitimate websites, guest posting can be an excellent tool for building your domain authority and advancing in SEO rankings.
However, it's understandable why many have questioned whether guest posting will harm their business. With the risk of "spam bloggers" trying to bribe blog owners to allow them to post low-quality content for their own link-building and SEO benefit, many marketers have opted not to engage in it at all.
As long as your content is of high quality, guest posting is a great way to boost your site rankings. As Google sees it, if other people are linking to your blog on their websites, then the content on your blog must be relevant and interesting. When people comment, share, like, or link to your blog, it moves up in Google's PageRank, meaning it's more likely to appear first when someone searches for a similar topic.
But Google's PageRank is just an algorithm, so it can't differentiate between dynamic content and spam! Therefore, while saturating your guest posts with links and keywords might help you climb in ranking, it likely won't generate new and appropriate traffic, and it certainly won't establish you as an authority in your field.
How to Do Guest Blogging
It all starts with a Google search.
The first thing you need to do is search Google for companies that might complement your product, as guest blogging is a sort of strategic alliance for content generation.
For example, if you're a company offering some digital service or software, you might look for digital marketing companies and offer to create a piece of content for them in exchange for inserting links in the blog post.
This is a real example from Dazzet and how we allow guest blogging by companies that generate quality content. Make a list of potential allies for guest blogging: As already mentioned, the first thing you have to do is search Google for companies related to your product or service and once you find them, visit their website to look for contact information.
1. Make a list of potential allies.
As we already mentioned, the first thing you have to do is search Google for companies related to your product or service, and once you find them, you should visit their website to look for contact information.
Many websites have a visible information email or contact form. Either way works, though having an email is preferable.
If they have contact information visible, then copy and paste the email into an Excel sheet. If, on the other hand, they have a contact form, write directly in the form with your contact details and message text.
2. Write an email template
Write a simple and straightforward email. Go straight to the point; if your intentions are good, you will be heard.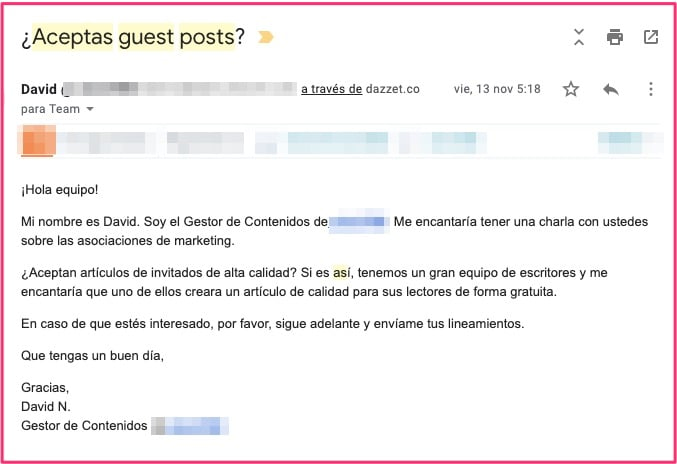 It began with a brief introduction of the sender's role and company, followed by a request for a discussion. This approach also allowed us to research them beforehand.
Directly, they stated the purpose of the conversation: they wanted us to accept high-quality content as guest blogs, and they even mentioned this in the email subject.
Important note: Be direct. Time is precious, so don't ask for meetings without stating the purpose. Respect others' time. If it's of interest, they will dedicate more time than you might expect.
Finally, they asked for our guidelines to proceed.
3. Have Clear Guidelines
These are the conditions the partnership must meet, varying by industry or business, as these guidelines should align with the strategy.
For example, if you wanted to post on Dazzet as a guest, these are the conditions you must meet:
Your business should be easily relatable to any marketing or digital marketing theme (retail, sales, design, web, analytics, social media, etc.). We discuss various marketing topics on our blog: CRM, software, development, app programming, etc. If your business can write about how what you do, combined with digital marketing, produces results, we're interested in your content.
Once you tell us about your business, we'll send you title alternatives based on keyword research. After learning about your business, we conduct keyword research and propose three possible titles likely to generate many views, clicks, and traffic.
Write a blog post with at least 1500 words: We don't publish short blog entries, as the best posts for ranking are between 1500 and 2100 words.
Include a link to external resources: If you're going to discuss data or make "statements of truth," then you should link to a resource that supports the data you're presenting.
A maximum of one link to your blog: You can create a link to your website with the most relevant anchor text for you.
Image for the content: You must attach at least one image to support the content.
If the content you send us meets these six points and is also of high quality, original, relevant, and well-written, we will optimize it for SEO and publish it with a Do Follow link to your site.
Conclusion
Guest blogging isn't easy or cheap. It requires a significant time investment in creating quality content for other websites.
The key with this strategy is to understand that SEO positioning is highly profitable in the long run. If you manage to rank your page for high-value keywords, you'll quickly see a return on your investment.
Juan Esteban Yepes