What is engagement marketing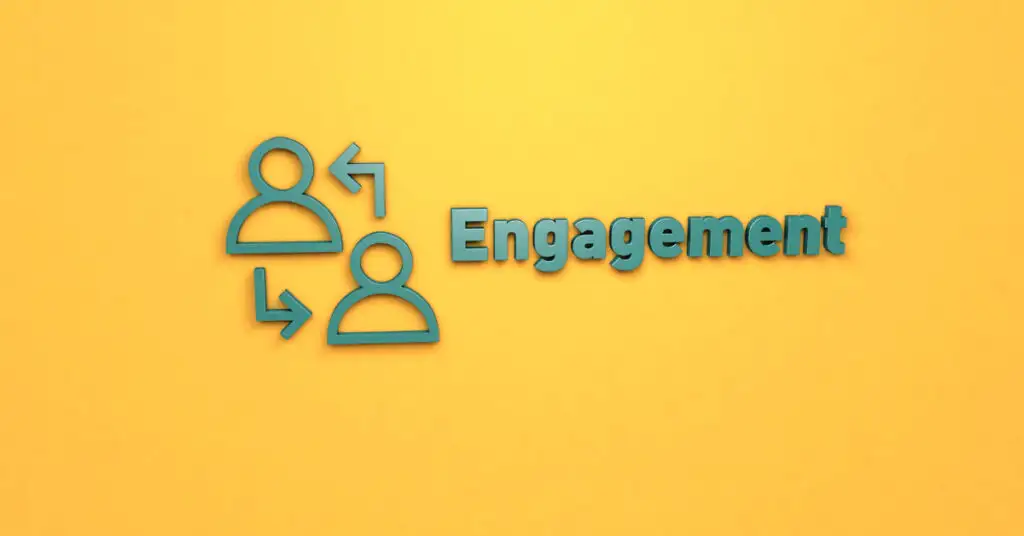 In recent times, the term 'engagement' has grown significantly in importance for marketing specialists.
¿What is Engagement?
In the context of Digital Marketing, the term refers to how consumers directly interact with a brand through different actions, such as clicks, likes, comments, and shares.
This is crucial not only for increasing the company's reach and relevance in the internet landscape but also for facilitating the creation of profitable relationships. The more engaging your brand's experiences, the higher the conversion rate of potential customers.
Therefore, it is essential to design strategies focused on stimulating this type of behavior in the audience, and this is where Engagement Marketing comes into play.
¿What is Engagement Marketing?
Engagement marketing is the strategy and content necessary to create meaningful interactions with customers and build brand loyalty. It's an inbound and multi-channel marketing approach that includes:
Email marketing.
Content marketing.
Social media marketing.
Marketing automation.
By implementing engagement marketing, valuable interactions are created with people. Imagine a great piece of content designed to make a difficult decision easier for a consumer, or a well-timed email to follow up with someone after a recent purchase. These actions can help build a personal relationship between the brand and the customer.
To do this, marketers use data to get a better impression of who their customers are and their behavior. This not only creates more personalized interactions but also brings the additional benefit of moving customers through the sales funnel faster through specific and strategic user experiences.
¿Why is Digital Customer Engagement Important?
Customer loyalty is hard to win but easy to lose: almost half of the customers say they would switch to a competitor after just one bad experience. That number rises to 80% after more than one bad experience. Gone are the days when companies could take a one-size-fits-all approach to their customer experience.
The data is clear: customer expectations regarding your company are very high.
Customers want to be treated as individuals, which means they expect companies to know their preferences and purchase history. To do that, businesses need to be able to leverage their interactions with customers across all platforms and turn that data into useful insights.
Companies that do it the right way can build upon their success. Customers want companies to track their data if it leads to a better customer experience.
Therefore, better digital engagement with the customer leads to more customer data and better customer experiences, which can lead to higher profits.
Benefits of Engagement Marketing
Think, for example, of your overall digital strategy. Whether it's for generating leads or closing sales, it's important to have an attractive website and a high degree of authority. And engagement plays a key role in this process.
If you employ a good SEO strategy and thus attract users to your portal, you must ensure they are interested in the experience.
A poor website, without incentives for engagement, tends to drive visitors away and increase the bounce rate.
However, if your approach allows for visitor engagement, they are likely to spend more time on the site, visit multiple pages, and get to know your brand better.
This can be the first step for the user to start consuming your content, become a lead, enter a nurturing process, and convert.
However, engagement on the internet is not just about your website, much less about closing sales. Look at the other advantages below!
1. Increases Brand Authority
If your company works with a Content Marketing strategy, you know the challenge of positioning your blog among the top results of SERPs.
To pursue this goal, it's essential to use SEO techniques to please Google's algorithm, which sets the ranking through various criteria. One of these is domain authority, which is determined by a series of factors like external links, accesses, and traffic volume.
Thus, by focusing on the engagement of leads, you create a mechanism that increases your domain's authority, elevating your position in the ranking.
To make this work, you need to motivate engagement across all channels. Linking your site with social media, for example, is a good way to generate authority.
2. Generates Awareness About Potential Customers
You're familiar with the concept of a buyer persona, right? It's a semi-fictional profile used to represent your ideal consumer and serves as a basis for implementing communication and marketing strategies. Naturally, it's essential to thoroughly understand the characteristics of your target audience.
When a visitor engages with your content, it opens a two-way dialogue. After all, by taking such action, they generate valuable information about their behavior.
So, think about your social media. The number of "likes" and shares on each of your posts clearly indicates your followers' preferences. If your videos are more successful than images, for example, this suggests that the audience prefers this type of content.
It's also possible to extract more specific information. Many strategies involve the use of interactive content, such as quizzes and surveys, which are excellent for gauging the audience's level of knowledge and defining their positioning in the sales funnel.
3. Allows for Strategy Optimization
The natural outcome of understanding your buyer persona is the optimization of your strategy.
The more data you gather about your audience, the more effective your campaigns will be across all channels. Consider an email marketing approach, for example.
If you insert links in your messages, you can measure which campaigns receive more clicks. From this, you can apply A/B testing to determine which elements are more effective in capturing the audience's attention. Then, you just need to make adjustments to increase the success rate.
4. Increases Brand Reach Organically
Many people still think of digital marketing as involving significant investment in advertising. However, strategies like Inbound Marketing demonstrate that this isn't necessarily the case.
If you achieve good engagement rates, the reach and relevance of your channels will increase completely organically.
And this isn't just about the positive ranking that can be achieved in search engines; engaged consumers often share positive experiences with others, generating more business opportunities for your company.
Elements to Consider in an Engagement Marketing Strategy
Here are two key things to consider:
1. Your Business Objectives
The first step is to determine your business objectives. As with any other plan, your goal should be data-driven and executable.
"How can you know you've reached your goal without data?" asks Crestodina. "Every plan needs to have numbers."
For instance, let's say your business has launched a new product feature, and upon analyzing the data, you find that awareness among your customers is low. Your ultimate goal is to achieve 200 demonstrations through digital channels.
That's a solid goal to aim for. Now, what do you need to do to get there?
Once you set objectives, you can examine all your digital channels to identify the best ways to reach your goal.
2. Digital Channels
Each digital channel needs a customized strategy: they are levers that can be used for different objectives.
Here are some examples:
Webinars are live virtual events held online. It's an interactive format with video and audio that gives you a great opportunity to hear customer questions. You can use these questions to inform your next piece of content.
Paid search is a type of digital marketing where search engines like Google allow advertisers to show ads on their search engine results pages (SERP).
Search works on a pay-per-click model and is a good way to drive traffic and build brand awareness.
Social media helps build brand loyalty and stronger relationships with customers. Show how you're living your brand values, post eye-catching content, and listen to what your customers have to say.
Most social media users log in at least once a day, so keeping fresh posts in their feed keeps you at the forefront.
Live chat and messaging create a personal connection with customers seeking support. Live chat allows customer service agents to help more customers in less time, meaning happier customers most of the time.
Moreover, customers are three times more likely to make a purchase when contacted via chat, so it can also be profitable.
Wondering where to start? You can create a matrix of your channels and topics to see where your opportunities lie.
If you need to increase your audience's engagement, contact us.
Juan Esteban Yepes