What is a blog and how to start one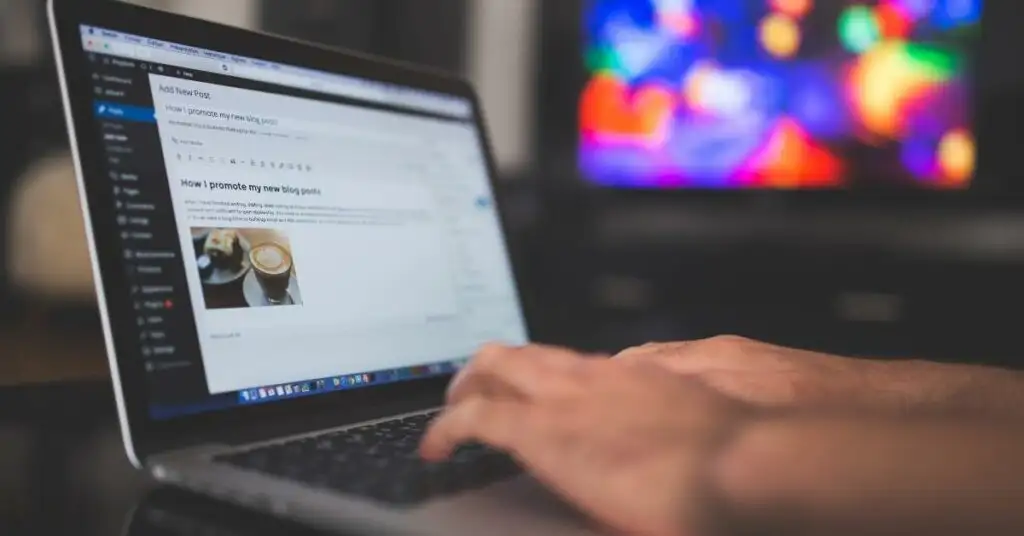 Today, blogs have become an essential element of digital marketing for all types of businesses, and various strategies are built around them. They should always be included when designing a website.
Statistics prove this!

According to OptinMonster, 77% of internet users read blogs…

So, it's not surprising to find other data on the benefits of blogs for SEO growth, link building campaigns, and inbound marketing strategies, which we have discussed in other posts.

Why is this?

HubSpot reports that 59% of B2B marketers consider the blog to be one of the best marketing channels, generating 67% more leads per month.

In this context, there is a 14.6% chance that leads captured through inbound marketing strategies, including business blogging, will convert into customers.

Conversely, leads acquired through emails or print advertising have just a 1.7% conversion rate.

If you're still not convinced of the benefits a blog can bring to your business and market niche, let's delve a little deeper into blogs.
¿What is a Blog?
The history of blog creation in the 1990s is well documented, and we can say that from 1999 and the early 21st century, blogging has experienced exponential growth.
A blog is a medium of communication that can be used both individually and corporately to publish texts accompanied by various contents such as audio, videos, images, etc.
Blogs can be created for multiple purposes, such as sharing topics related to the business or updating product information that is relevant and useful to customers. Each of these publications is known as a post.
Hence, it has become a strong strategy in inbound marketing, offering many commercial benefits.
Blog vs. Website
A blog is typically a section of your business website, but, unlike the rest of your website, the blog section should be updated frequently with new posts. Additionally, your blog is a tool that allows you to interact more with your audience, whether by analyzing how many readers share your blog posts on social media or by allowing readers to comment on individual posts. In this way, a blog is more like a two-way conversation than the rest of your website. However, a blog can also be a standalone website, and often is, especially if the blog is for personal use only, like a travel blog.
Benefits of Creating a Blog
While we have already mentioned some statistics supporting the importance of blogs in implementing digital marketing strategies, let's delve into some of the most significant benefits."
1. Raising Company Awareness and Establishing Market Authority
The best business blogs respond to common questions from both leads or prospects and existing customers.
A constantly updated blog that stays abreast of market niche conversations, focusing on attractive and high-quality topics, helps not only in making the company known but also in establishing it as an authority in the field.
2. Driving Traffic to the Website and Enhancing SEO Growth
Unlike other marketing strategies, blogs can be used at different stages of the conversion funnel and are much more cost-effective than other techniques.
One of their major advantages is that they can be easily disseminated, as they can be linked in social media posts, emails, newsletters, and appear in search engines through keywords, improving SEO.
It's an excellent opportunity to position keywords that users commonly use to find content and/or products related to what your company offers.
A blog is a way to climb the ranks in search engines like Google, Bing, and Yahoo! with fresh and updated content.
3. Converting Leads into Customers
Blogs are a series of opportunities for growth with new customers, as they not only support the company's website but can also be shared on social media, which will significantly increase the leads to your website.
Thus, each post you publish is a way to reach new leads… for example:
People visit your blog.
In the post, they find a CTA for a discount voucher or a free offer.
The visitor clicks on your CTA, leading them to a landing page where they decide to provide their information.
This is the best way to introduce visitors to the conversion funnel. Once they apply to your lead magnet, you are likely to reduce sales friction.
4. Strengthening Long-Term Relationships with Leads and Customers
The interaction that can be generated through posts builds trust and long-term engagement with leads and customers.
Especially when you focus on high-quality content, a condition that is not only necessary for customers to consistently read your posts but also for Google to analyze the relevance of your content.
Additionally, the blog allows linking content in multiple formats, making each post an opportunity to interact with your visitors, resolve doubts, and create interesting conversations that can foster greater loyalty to your website.
How to Start a Blog
1. Select Your Target Audience
When you begin your own blog, it's crucial to think about your target audience. Who are you creating the blog for? And who do you want to read your blog posts? Before starting, consider the niche you're writing about, as well as the topics you'll cover and why you're doing it. Crafting your target audience is akin to creating a buyer persona for your business. Additionally, this will give you an idea of the type of content you want to produce.
2. Regularly Generate Content Ideas Based on Your Market Segment
Once your blog is up and running, you'll want to regularly produce high-quality, consistent content. This is not always easy, as content creation is time-consuming. Ensure that the content you produce is something your readers would be interested in and, hopefully, can help with your SEO.
To start generating content ideas, look at what your competitors are doing. Identify gaps in their content that you can fill. Also, conduct SEO research to verify that users are searching for and interested in the topics you want to write about. Tools like SEMrush, Google Keyword Planner, and Answer The Public can be helpful.
You'll want to frequently generate content ideas so you always have something to execute.
3. Research and Evaluate a Content Management System (CMS)
To create your blog, you'll likely use a CMS. A CMS is a tool that you can use to design, manage, and publish on your website. You've probably heard of examples like WordPress or Wix.
If you don't already have a website, you'll want to choose a CMS that can host a blog. If you already have a site, check if it has integrated blogging options. If not, you might need to find a CMS that integrates with your site or choose a completely new CMS.
There are many options in the CMS world. For example, at Dazzet, we specialize in WordPress.
4. Create a Blog Strategy and Editorial Calendar
Just like starting a business, you can't create a blog without a strategy in mind. Your strategy should answer questions like:
Who are you targeting?
What type of content will you produce?
When will you publish?
Where will you promote your content?
In general, you should have a mission, vision, and objectives for your blog.
Then, create an editorial calendar to stay organized and on track. A calendar will help you track upcoming posts, ensure writers meet deadlines, and make sure you have enough content ideas for the foreseeable future.
5. Pay Attention to Article Structure
When writing your blog posts, it's important to consider the article's structure. For example, are you using subheadings to break up the post so it's easy to digest? Are you using bullet points and images to make the post easy to scan? These are important factors that will help keep the reader on the page.
Additionally, you'll want to ensure that you're using calls to action (CTAs), which will guide the reader on what you want them to do next. This is how you can start to make money and generate leads through your blog."
6. Become an Expert in Marketing and Promoting Your Blog
Another aspect of blogging is the marketing and promotion of your blog posts. It's like the old saying: "If a tree falls in the forest and no one is around to hear it, does it make a sound?"
So, if you write a blog post but no one reads it, will it have a positive impact on your business or brand? Probably not. That's why you need to promote your posts. You can use social media, SEO, your website, or your email newsletter to reach current and potential customers.
7. Learn About SEO
As mentioned earlier, you want people to read your blog posts. One way to achieve this is by getting organic traffic through SEO. If you want your blog to be successful, learn how to research keywords, how to rank in search engines, and how to create an SEO strategy.
8. Use a Variety of Blog Post Styles
Your blog posts need to be interesting to everyone who reads them, especially to customers who read each one. For those who are active followers and ambassadors of your blog, use a variety of blog post styles to keep your blog from becoming monotonous. Consider using how-to posts, list-based posts, or thought leadership pieces.
9. Repurpose Old Content
Consistently producing blog content can be challenging. But you don't have to reinvent the wheel every time you write a blog post. You can update old blog posts to keep them accurate and complete. Additionally, you can take other content you've created, like a YouTube video or a podcast, and repurpose it into a blog post.
10. Conduct Competitive Analysis
To understand your audience, conduct a competitive analysis of your top competitors in blogging. This will help you identify trends, discover content gaps in your industry, and give you ideas on topics and ways to promote your blog.
Conducting a competitive analysis will help you build and iterate your own blog strategy.
With a blog, the sky's the limit, and so are the benefits for your business.
11. Hire an Agency to Create Content for You
Hiring a digital marketing agency to create blog content has numerous advantages compared to doing it in-house. First, a digital marketing agency has a team of highly trained and experienced professionals in creating blog content, meaning they can produce high-quality content more efficiently and effectively.
Additionally, a digital marketing agency can offer a fresh, external perspective on your company and industry, which can help identify content opportunities that may have been overlooked internally. They can also be up-to-date with the latest trends in content marketing and search engine optimization (SEO), which can enhance the content's effectiveness in generating traffic and leads.
Another advantage of working with a digital marketing agency is that they can help amplify content distribution across various platforms and marketing channels, including social media, email, online advertising, and more. This can increase the reach of the content and attract new target audiences."
Juan Esteban Yepes